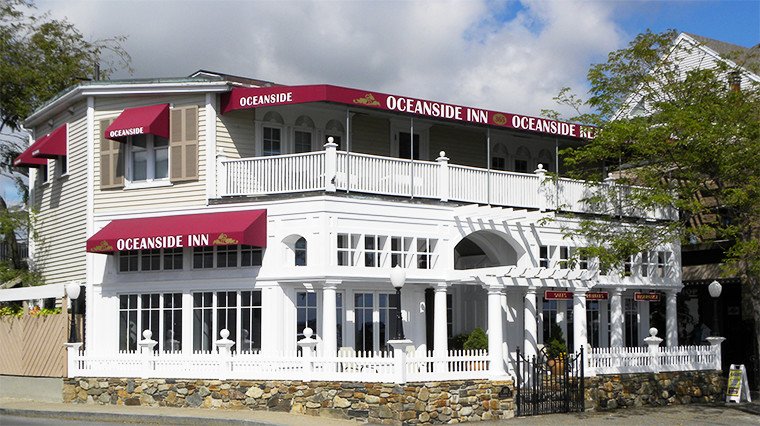 D.W.'s Oceanside Inn is a small elegant lodging overlooking the Atlantic Ocean and miles of beautiful sandy beaches along New Hampshire's 18 mile coastline in Hampton Beach.
This early 1900's beach home has been totally renovated to offer its guests nine individually decorated rooms to express the owner's special attention to detail.  All rooms have private baths, air-conditioning, telephones, central AC , flat-screen TV's and free WiFi.  A full breakfast is included in the rates for all rooms except the Oceanfront Condo which has it's own kitchen.  The Inn is set up as a quiet get-a-way for mature adults and is totally non-smoking.
The Inn is a quiet respite located at the edge of the busy summer tourist area of Hampton Beach.  Dining and many activities are within an easy walk.  The historic seacoast towns of Portsmouth, NH to the north and Newburyport, Massachusetts to the south are less than a 20 minutes drive either way, while Boston is less than an hour's drive south.
The Inn is Mobil Rated ***.
Open early June through mid-September, Duane (Skip) & Deb Windemiller are your hosts. They were previously named NH INNKEEPERS OF THE YEAR by the NH Lodging & Restaurant Association.
If you would like more information or would like to request a brochure, you may contact the innkeepers by phone, mail or email.
Rates are Per Night with 2 Night minimum

Weekends/Weekdays

3-5 Nights

6 or more Nights

Oceanfront
Room
$285/$260 Per Night
$245/Night
$230/Night
Deluxe Room
$260/$235 Per Night
$225/Night
$210/Night
Oceanfront
Condo-1BR
N/A
$395/Night
$350/Night
Rates listed above are PER NIGHT.
All rates subject to 9% New Hampshire Rooms Tax.
Rates for Oceanfront & Deluxe Rooms are daily rates based on double occupancy. Single night stays based on availability. Single night rate is 2-night rate plus 10%.
Rates for Oceanfront & Deluxe rooms include breakfast. We serve a full breakfast daily from 8AM-9:15. Guests order off a menu with a choice of a continental breakfast, eggs (any style) or a different special most days. Don't miss out on our homemade bread!
The Oceanfront Condo has a 3-night minimum. Rates noted above are daily rates based on double occupancy and do not include breakfast. $35/night charged for 3rd person in Oceanfront Condo. Oceanfront Condo includes living room, kitchen, office, 1 bedroom with queen-size bed, 1 bath & deck,and free WiFi
Rates are discounted by 20% during the following periods: Pre-season (June 10-23) and again in late-season (Labor Day-Sept. 18) except listed rates apply for Seafood Festival weekend which is the weekend after Labor Day.
Check-out time is by 11am for rooms; by 10AM for Oceanfront Condo.  Check-in time is 2pm-7pm.  Please call if you plan to arrive after 7pm. No check-ins after 9pm.
Amenities for rooms in the Inn include: nightly turn-down service, flat-screen TVs, wired internet connection in living room plus WiFi available throughout inn, clock radio w/alarm, room safes, self-service bar on back deck, beach chairs & towels for guest use. Private parking in gated lot located 1 block behind Inn.
The Oceanside is a SMOKE-FREE establishment. This includes the Oceanfront Condo. No smoking is allowed anywhere on the premises at any time. This includes all outside decks & grounds. Please understand the seriousness of this house rule.  We reserve the right to remove a guest from the premises for smoking without any refund of monies.
No unregistered guests allowed in the Inn, even for short visits, without express permission from the innkeepers. This helps maintain a quiet atmosphere for our registered guests.
No Pets.
On the day of departure, our guests who are checking out of a room at the Inn are still our guests for the day. This includes use of beach towels & chairs and use of our guest bathroom and shower after a day at the beach. A parking space cannot be guaranteed but will be offered if available.
The rooms in the Inn were renovated and have been furnished for the appreciation and enjoyment of mature adults seeking a quiet get-away.  The rooms accommodate only two persons.  Due to many breakable and irreplaceable items, it is not appropriate for children.
Please remember, the Inn is our home and as our guest, mutual respect, kindness, and general consideration will enhance your Inn experience.
Rates subject to change without notice.
All rooms are subject to availability and are only confirmed upon receipt of a deposit within 1 week of making the reservation. For stays of three days or less, a deposit of one night's lodging is required. For four days or more, a deposit of 25% of the total lodging is required. A deposit of 50% of the total lodging is required on the Oceanfront Suite. Deposit is applied to final days of stay.
Advance deposits may be in the form of a personal check or a credit card. MasterCard, VISA, Discover, & American Express accepted.  For those guests making advance reservations by credit card, please be advised that deposits will automatically be processed at the time the reservation is made, just as if we had received your check  and processed it for payment.  Our Cancellation Policy applies to all forms of deposits.
Deposit refunds for rooms will be made promptly and in full, less a $25.00 service charge per room, when cancellation is received at least 2 weeks prior to arrival. For short notice cancellations, we will make every effort to re-rent the room and will rebate all but whatever sum represents our financial loss.
Deposits on the Oceanfront Condo are non-refundable unless we are able to re-rent all days booked.
It must be understood that an advance deposit insures both the guest and the Inn the entire period reserved.  Therefore when situations arise necessitating your cancellation within the 2 week limit, we do sympathize, but we must maintain a business policy.
Our goal is to provide a wonderful experience in the desirable location of Hampton Beach, NH. We have built our site with ADA compliance in mind and have utilized available tools such as achecker.ca and Google Chrome's ADAcompatibility diagnostic tools. Please be aware that our efforts are ongoing. If you have difficulty navigating our website or booking a room at our inn, we ask you to contact us via telephone or email and our helpful staff will be happy to assist you. Please note that we do not have any ADA Accessible rooms or features at the inn.
365 Ocean Blvd
Hampton Beach, NH 03842-3633
(603)926-3542
Owners: Duane & Deb Windemiller
We work very hard to provide an easy-to-use online experience for all guests. We believe all of our website visitors should be able to easily research online on https://oceansideinn.com regardless of device type and whether an individual requires assistive technology. If you have any questions or would like to report any issues related to the accessibility features of our property's website, please contact us at [email protected]
Interstate 95 north or south to Exit 2 (Hampton Beach).
Rt.101 East 4 +/- miles to Hampton Beach.
Rt.101 will dead-end at the ocean.
Cross over Rt. 1A (aka Ocean Blvd.) and take a left.
Driving along the water, take Ocean Blvd. north approx. 2 blocks.
The Inn is on the left just after the intersection of Rt.101 West.
Continue driving north on Ocean Blvd. and take the next left turn through the center parking area and another left so you are heading back south again.
Reviews from our Guestbook
"Thank you Deb & Skip for being such wonderful hosts. And, Starr, thanks for sharing those raspberries with us. We love talking all things food with you. Even though Bill was a bit under the weather, we still did some of our favorite things. We'll see you again and again and again because there is no better beach vacation anywhere?"
Love, Diane & Bill , July 2019
"We've been at D.W.'s Oceanside Inn many times and have never been disappointed! Skip and Deb outdo themselves every time! It's a beautifully decorated inn just across from the ocean...a wonderful place to relax and enjoy! Skip makes an amazing breakfast every morning..perfectly cooked eggs and French toast to die for with his homemade bread, plus so much more! Looking forward to coming back next year!"
Chris & Tony, Sept. 2018
"We are so appreciative of all the hard work and care that Deb and Skip have put into the making of this Beautiful Bed and Breakfast! The minute we walked through the front doors we were very impressed! Skip was there to greet us and made us very comfortable . He showed us around and pointed out where things were. He explained all we needed to know. We met Deb a little later! She too made us comfortable and welcomed! Deb and Skip are always asking if there is anything you need and is everything okay? The Inn is so beautifully decorated in the Victorian era! The Inn is kept immaculately clean! Everything is top shelf. Skip's breakfast is delicious! Thank you Skip and Deb for sharing your beautiful Inn with us! Perfect spot on the beach! We wish you all the best! Thanks again for everything! Hoping to visit again!"
Joe and Pam , August 2016
"Thank you for another great mini vacation. We love it here. Your home is beautiful and the two of you are the best hosts in town. You are both pleasant and always seem to be smiling. You are a step above the rest. Thanks again. Much love until we return."
Karen & Ron , August 2016
"EVERYTHING! Beautiful inn, wonderful hosts, delicious breakfasts, terrific view of the ocean! I love this place. ❤"
Karen, November 2018
"Clean, quiet, homemade breakfasts with love, great folks, amazing Inn. A++++ "
Michelle & Dan, August 2018